About Compass Services
Home and Lawn Pest Control Services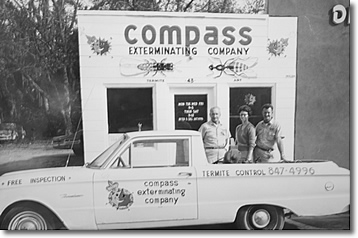 Compass Services, Inc is a family owned and operated full service pest control company. Compass was founded by Harold Honeycutt Sr. in 1959. A second generation certified operator now in charge of running the company is Harold Honeycutt Jr. Honesty and integrity are the foundation of our company. We believe if we don't treat you right someone else will!
Compass services initially provided Household pest control and rodent services and termite post & pre-treatments for new construction. In 1979 Compass expanded our services to include Lawn and Ornamental care for the control of insects,weeds, diseases & fertilization on lawns and ornamentals. In 2007 Compass expanded again to include a Do It Yourself center for people that have the time & enjoy doing their own Household pest control services or Lawn care. We also provide the expert advise on applying the products in an effective & safe manner.
Stop by or call us today. We are always happy to help with all your pest control needs or any questions you may have.
Licensed – Certified - Insured